Studio LadyBug is an independent studio situated in Los Angeles, California.

They have worked on Your Favorite Martian music videos from December, 2010 to August, 2011 and helped produce a total of 15 music videos for the band. Those 15 music videos constitute the first phase of the band (Phase 1/Gen 1).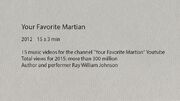 They specialize in making animation content for feature films, television, short form works, music videos, and children's media.
They work in the following catagories:
[
]
Story Boarding
2-D Animation
3-D Animation
Graphic Designing
Commercials
Illustration
Gallery

YFM
[
]
---
Logo
[
]
---
Trivia

It's website hasn't been updated since 2015.
Other works:
[
]
Feature Films
[
]
Purim: The Lot (2014)
The Voyages of Young Doctor Dolittle (2011)
The Good Solider Shweik (2009)
TV Shows
[
]
Masha's Tales (2014)
Masha's Spooky Stories (2015)
Proverbs And Sayings (2015)
Black Square (2012)
Mystery Sukharev Tower (2014)
Angel Baby (2015)
Music Videos
[
]
Hello Baby
Greedy Graffiti
Preschool Popstars
Your Favorite Martian
Tooth Fairy
Shorts
[
]
About Hunting (2015)
The Florist (2014)
Projects
[
]
Magic Pages
KIDZ!
5-0-5 Back on The Case!
The Dream Team
Charlotte and Frogson (2015)
Little Zoo
Microcosm