"
Chris Brown? Somebody needs to throw that guy out of the club. Seriously.
"

Club Villain is the 4th song released by Your Favorite Martian. It features Humbert recounting the night he went to a night club for villains.
Music Video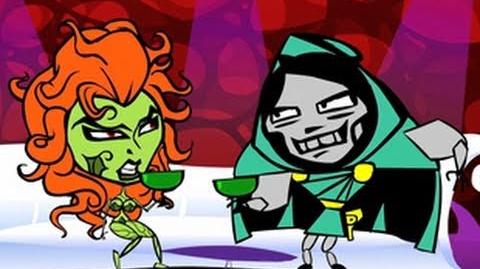 Lyrics
Lyrics on the Club Villain/Lyrics sub-page.
Trivia
All the villains mentioned in this song are: Bowser, Hannibal Lector, the Wicked Witch of the West, Charles Manson, Ganondorf, Side Show Bob, Captain Blackbeard, Catwoman, Harley Quinn, Jason Voorhees, Dr. Octopus, Ursula, Voldemort, Darth Vader, Mystique, Chris Brown, Megatron, Venom, Poison Ivy, Dr. Doom, Eye of Sauron, Joker, Patrick Bateman, Jabba the Hutt, Elmer Fudd, Predator and Freddy Krueger.
This song is the only time Puff Puff's studio Ladybug version could be seen with eyebrows.