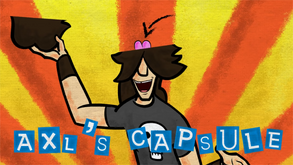 Axel's Capsule, stylized as Axl's Capsule, was a segment in YFMTS hosted by Axel himself.
Concept
Axel's Capsule was initially used as a way for Axel to explain the obscure references he made, as it debuted in YFMTS #7 with him explaining what elephantiasis is, according to WebMD.
The second, and last, appearance of Axel's Capsule was of Axel announcing that YFMTS was going on hiatus while they worked on their album, although they never returned. It showed him wearing one of the newly announced merch designs with Vincent, explaining that while they were leaving for a while, exclusive digital content was being put up on Animonster's Facebook page as a way to say thanks for a great first season.
Trivia
There were only ever two segments of Axel's Capsule, but there was a chance that it would show up more frequently in the unreleased second season.
The backdrop for Axel's Capsule was the same one in which the band announced their hiatus, and inevitable discontinuation, in late 2012.
Axel's Capsule was most likely going to be used as a way to make important announcements within the band, but it never got the chance to.
When Axel is listing off the content available on Animonster's Facebook, he mistakenly says "wallspapers," rather than wallpapers.